Dad's house is where I lived from the time I was a baby, until I was 19, and then I took brief in-and-outs until I was 25 and finally got myself (more or less) established in the adult world. Fast forward to 32 and I returned again--this time to help Dad out, instead of him helping me out.
That didn't last, though (due to geographical distance from our jobs/friends, not Dad), and within the year we'd purchased the
Hen & Thistle
and moved there, bringing Dad along. A year later--almost to the day we moved here--the old house was fixed up (the real estate photos were unrecognizable!), on the market, and sold.
(
And that's good, but also strange.
Collapse
)
Originally posted at
Mixed Media
.

This entry was originally posted at DreamWidth with
comments.
A couple of weeks ago, the sale on my Dad's house closed. It went to a new family, and I know their names, but I don't know anything else about them. And that part, I'm largely okay with.
Challenge yourself to write 75000 words or more in 2014!

inkingitout

inkingitout

inkingitout
Sign ups now open!
This entry was originally posted at DreamWidth with

comments.
Originally published at Mouseferatu: Rodent of the Dark. You can comment here or there.
Throw the confetti, blow the noisemakers, and hide your wallets! Widdershins is back!
Today is the official release day for Lost Covenant, book three of the Widdershins series. As with the prior two, Thief's Covenant and False Covenant, there is humor and horror, action and mystery, and much more.
If you've been following along, the next adventure's waiting for you. If you haven't met Widdershins yet, give Thief's Covenant a whirl. (You can read them out of order, but it's far better if you read them in sequence.)
I'm really proud of how this series has turned out so far. I hope you guys are all enjoying the ride.
Back from Europe (which was awesome, except for the bits that weren't). Back at work. Writing my last workshop of the year, THE SUBMISSION CRASH COURSE, which will be running at QWC this Sunday (spaces still available).
Once that's done, I have to go find a new place to live. And, you know, move.
And I have to write some things.
Which means I'm still prioritizing the juices squeezed out of my brain-meats for things that aren't regular blogging for a little longer, although I expect to be about regularly in 2014 after scaling back my extra-curricular activities a little.
Until then, have approximately nine minutes of early nineties AWESOME to tide you over.
Originally published at Man Versus Bear. Please leave any comments there.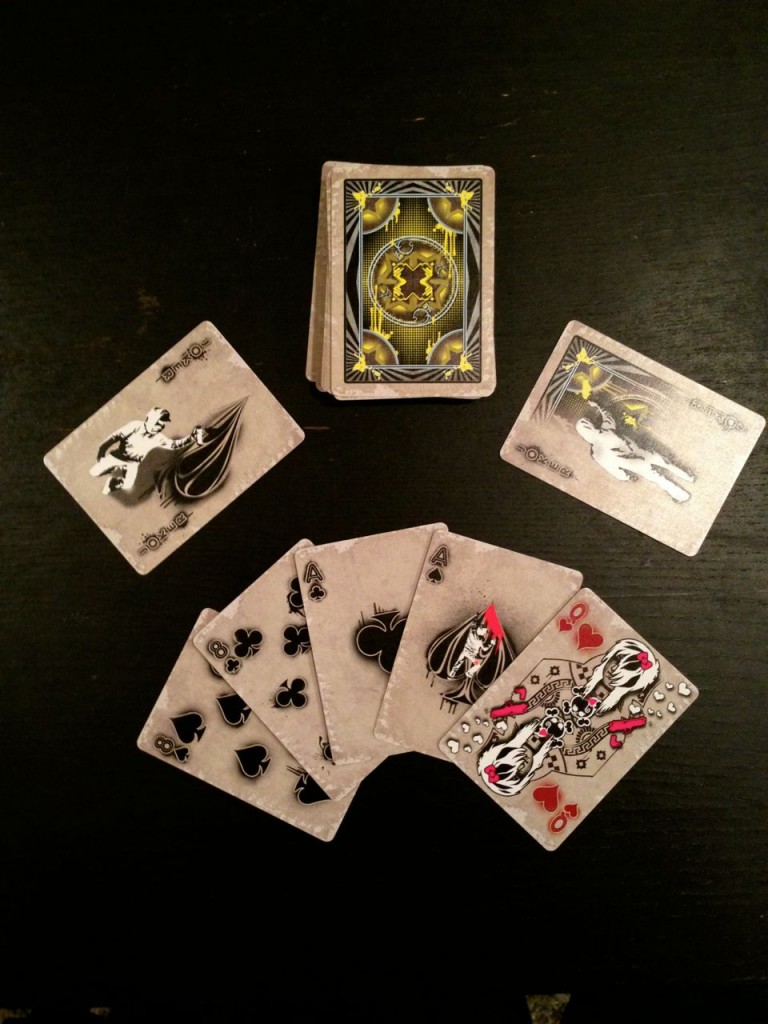 Mostly thanks to Hillfolk and the enabling influence of Kickstarter, I've wound up with a number of decks of playing cards. As one does. In a feeble but well-meaning attempt to justify the trickle of ten buck pledge levels, I'm going to write up some quick little DramaSystem series pitches based on said decks.
I am not committing to running a DramaSystem game based on each deck. Primus, the system works better when it's in campaign mode. Secundus, not insane.
This is the Urban Punk Bicycle Deck from UncommonBeat. (Click to enlarge, cause they're better-looking full sized.) I am not sure if they're still available or not; the Web site says Coming Soon. Email 'em and find out! It is not my favorite deck or even in the top half. The backs are really garish without being graffiti-inspired, while the court cards are oddly 80s-flavored. I still love the concept and the spray painted outlines on the pips.
OK, so what can we do with this?
Nutshell
Ten years after the Global Financial Crisis was not averted, all politics are local. All governments are local, for that matter: it takes too much energy and too much effort to worry about what's happening fifty miles away. The clock is ticking, as the storehouses of resources dwindle away, but it's hard to care much about that.
(
Read the rest of this entry »
Collapse
)
Mirrored from Population: One.
Crossposted from http://parsantium.com/blog

I am very pleased to report that the layout of Parsantium: City at the Crossroads is done! It's taken longer than we expected but we're very pleased with the results. Here's a preview of the introduction to the Mercantile Quarter (with an awesome illustration by Matt Morrow) so you can see what the finished book will look like. A few of you might recognize one of the passers-by too ;)
Of course, there's still quite a bit to do before you get the book in your hands (or on your laptops and tablets) including final proofing, replacing all the "see page XX" references, signing off and inserting the city map, designing the cover, writing an introduction, bookmarking the pdf file, getting the print file ready etc etc. We'll be working on all these things over the next few weeks but it feels great to have got the book to this point.
One more thing – if you're interested in reading what it's like to adventure in Parsantium, there's a write up of the latest session in my ongoing 4e campaign here.
Here's what happened in last night's game, in which we caught up with what's been going on with Juma prior to an epic battle against the followers of the Black Mother. Each PC gets 6,000 xp, enough to take you to 16th level.
6th November
Juma Jh'od Ji'ad leaves Parsantium by the Camel Gate, heading through the halfling camp outside, to reach the place where his nomadic Aqhrani "business associates" are camped. Here he meets with
Sheikh Babak al-Hasid
("the respected") and tries to repay his 10,000 gp gambling debt. The sheikh welcomes Juma as a long lost son and insists on cancelling the debt in return for a small favour. He wants the swordmage to bring him the secret formula for Parsantine Fire when the nomads next return to the city at the beginning of Februarius. Juma says this won't be a problem and spends the next couple of days partying in the nomad camp, winning 5,000 gp in various games of chance.
8th November
Juma joins the rest of the party outside the door marked with the faded red skull symbol. Hearing the sound of a carriage approaching, the PCs quickly pull the thuggee bodies into the shadows of an alleyway and take cover. Watching from hiding, the party see two women wearing hooded black cloaks exit a carriage bearing the crest of
House Ziper
(a prominent noble family) and go through the door. About five minutes later, another carriage arrives, this one marked with the badge of
House Mino
– again, two more women get out and enter the door. Finally, an unmarked carriage arrives. This time a pair of armed guards get out first and have a good look around before yet another hooded figure gets out and goes inside.
The PCs wait a few minutes, then open the door and head down the stairs beyond. The steep staircase leads to a doorway but there is a second door coming off a small landing about halfway down. After Hrothgar and Juma both fail to pick the lock on this door, Gil casts
knock
to open it and the PCs slip through. The party find themselves on a balcony overlooking an underground temple to Kali, the Black Mother, goddess of creation and destruction, where a ceremony is just getting underway. The high priestess is a tiefling and
Jagadamba
is standing to her right, apparently also part of the priesthood; the congregation consists of around a dozen women, all wearing hooded black cloaks. Four guards in dark red robes and black turbans stand guard.
The ceremony gets underway – there is much chanting and a goat is sacrificed at the altar – but nothing untoward happens ("they're not doing anything illegal" says Gil). After about half an hour, it is over and the women start to leave. One young girl, though, is asked to stay behind by the high priestess. Then, Jagadamba and the girl head down through a trapdoor concealed beneath a large rug. The PCs wait a few moments, then spring into action.
Hrothgar leaps down from the balcony, landing on one of the guards, followed by Jenma on her
sorcerous wings
. Juma casts
hellish rebuke
on the tiefling priestess (without success), Ulthar issues a
commander's strike
to Hrothgar and Gil casts
frostburn
. The surprise round over, the priestess
Chandrika
summons a skeletal warrior onto the balcony to attack Gil and Ulthar, then closes on Hrothgar, using
worthy sacrifice
to knock him prone and daze him. The guards move to attack the gnoll and Jenma, and the statue of Kali animates and joins the fray. Gil casts a
fiery serpent
that fails to stop the Kali statue reaching Jenma and knocking her unconscious. To make things worse, the dragonborn has been
sundered from sight
by one of the thuggee guards and can't be targeted with healing. Juma and Gil teleport down from the balcony to help their companions, followed by Ulthar whose leap is better described as a fall. Gil pours a potion down Jenma's throat bringing her round as Hrothgar (who is being garrotted by a thuggee) nonetheless manages to
brutal slam
Chandrika, flinging her at one of her own guards.
Things are going badly with nearly the whole party bloodied so Ulthar uses
stand the fallen
to heal everyone except Jenma who still can't be seen. Jenma blasts three guards with
burning spray
, narrowly missing the warlord in the blast. Ulthar then uses
warmaster's assault
to give everyone an attack – Gil takes down one guard with his sword and Jenma takes down another with
twin bolt
. Meanwhile, Hrothgar fights on against Chandrika, while Juma is still battling the Kali stone golem. Finally, a
commander's strike
from Ulthar allows the gnoll to finish off the priestess.
With Chandrika dead, the last surviving guard makes a run for it but the Kali statue goes on a golem rampage, trampling all the PCs. As it stomps on Juma, the genasi delivers a fatal blow and it explodes, knocking Jenma unconscious again! The battle is at last over. Jenma is brought rounds, everyone heals and the priestess'
necklace of skulls
is looted. With nearly all daily powers expended, the PCs discuss what to do next....